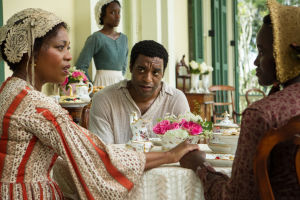 3 movies. That's the number of movies that are nominated for Oscars this year that I haven't seen. There isn't a single movie nominated for more than one award that has eluded me. There isn't a single fiction, full-length movie in English that I haven't caught up with. The three movies? The Missing Picture (nominated for Best Foreign Film), Omar (nominated for Best Foreign Film) and The Wind Rises (nominated for Best Loser to Fill Out The Rest of the Category With Frozen, I mean Best Animated Feature Film), three movies that, even should all of them win in their categories (which can't happen, as two are in the same category), will hardly dominate Oscar night. I, however, have already dominated Oscar night. I am the PokéMaster. I have caught them all.
Sadly, however, while this may make me a relative expert on the movies nominated for the 86th Academy Awards, I know no more about the winners of the 86th Academy Awards than anyone else, including monkeys who don't watch movies. And that is why I have put together a challenge to let all the wonderful visitors to NickRenkoski.com put forth their guesses for the highest honors of the cinematic year. You may recall, I did a similar thing with the Golden Globes and while the turnout was strong, a number of my friends and others said to me that they didn't want to participate because they had seen so few of the movies nominated. People, let me assure you that not having seen the movies nominated is the single biggest advantage you have in such a challenge.
Imagine you have a child, say, 15-months old. This child is irascible and ornery and not particularly well-behaved. Before this child are 5 different types of baby food. You are challenged to guess which baby food the child will select to slovenly scoop up and mash into its gob. The only thing you have to go on is the history of the types of baby food the child has selected in the past. Would you ever consider not doing it, protesting "But I haven't had any of the baby food?"
This is what we are up against, my friends. Voting on these movies is a large 6,000-member baby who doesn't take polls, doesn't self-identify and plays its cards very close to its chest. Do I know what this baby is going to do because I've seen all but three of the options? Nope. I've seen all five of the shorts nominated for Best Documentary — Short Subject and I think Cave Dweller is the best one, does that mean its the favorite? Of course not, because I don't get a vote and its chances remain the same as it did before I saw it–20%. Only, I'm at a disadvantage because I am inclined to guess for my preference when that shouldn't enter into it. My seeing all the movies is actively make me worse at guessing who will win.
You know the cliched (to say nothing of sexist)  idea of all the men filling out their March Madness brackets after a season's worth of studying and number crunching just to be beaten by their girlfriends who have picked their selections based on team name and uniform color? It's the same concept. So vote for the funny title, or the one you think you've heard of because that movie has as good of a chance and any. Look, I know, deep in my heart, that 12 Years A Slave is the Best Picture of the 9 nominated. I know it because I've seen the other 8 nominees and they just weren't as good. But sometimes the baby takes Beechnut and sometimes Norfolk State plays like fucking Wilt Chamberlain and I'm no better off for having seen all 9, none at all.
And this is one case in which "Oh, I've heard that's good, maybe I'll go with it," is a wonderful strategy because you know who else heard that that's good? Academy voters who are voting right now (voting ends February 25) and here's the kicker of all kickers–Academy members don't have to see all the movies either. It's very possible that the same people who told me they couldn't participate because they haven't seen enough movies have seen move movies than voting members of the Academy. On the night stands of Academy members across the world are movie screeners (57 of them at most) and that's a lot of movies to watch and Academy members are going to prioritize and just like many of you they may say to themselves "It says here that Her is a sensitive working of gender-relations seen through a futuristic lens of heartbreaking poignancy and emotion. OK. Let's see, what's next–ooh, The Croods!" One would think that Academy members take their responsibility more seriously than that but there's no mechanism in the voting process, except for in the short film, documentary and foreign film categories, that keeps them from seeing a small number of the movies or from voting in categories in which they haven't seen all the nominees (or worse, voting for a nominee they haven't seen).
The point of the Oscar challenge is not for you to pick your favorite movie, but to arbitrarily guess what a 6,000-person group that you've never met thinks is their favorite movie. Having seen any of them, let alone just about all of them, doesn't get you any closer to that sort of insight. So have fun and participate, if for no other reason than spending some time with these titles might inspire you to see a few more of them and you'll find that just about all of them are worthwhile (you can skip the documentary Dirty Wars, it's garbage). It's been a good year for movies, find out why.
But there's more reason than just stupid artistic enlightenment, the NickRenkoski.com Oscar Challenge now comes with a prize! The winner of the NickRenkoski.com Oscar Challenge will receive a $25 Fandango card–that's like one movie nowadays! And if there's a time when you want to get out to see the best movies, it's March! So you'll be able to see Tyler Perry's Single Moms Club! Or 300: Rise of An Empire! Or the cartoon reboot all the kids have been asking for–Mr. Peabody & Sherman! Oscar hopefuls all! Or you could even see Awful Nice,  an hilarious comedy that comes out on March 7 that features a cameo from a certain movie critic whose blog you are currently reading (it's true, you can look it up). Anyway, all these options are yours if your guesses are right.*
The challenge is below, it features a simple multiple choice question for each category, with each category being weighted the same. You have until March 2 at 6:00pm to complete it and you can change your answers up into the deadline. Get guessing. Have fun. See movies.
*Keep in mind that I will personally be competing and that I WILL CRUSH YOU in this challenge so you shouldn't even bother competing (but also, whom ever has the highest score and isn't the second son of Matt and Angela Renkoski will win the Fandango card, so no worries if you end up in second place [which you will]).