FAMOUS HANDSOME AMERICAN JON HAMM: Ladies and gentlemen, it's an honor to welcome you to the 29th Annual Nicky Awards. [Holds for thunderous applause from Hollywood's biggest stars]
FAMOUS HANDSOME AMERICAN JON HAMM: You know, when I was asked to host this show by my very good friend and personal mentor and style guru, Nick Renkoski [Holds for unruly and earth-shaking applause]
FAMOUS HANDSOME AMERICAN JON HAMM: I was initially hesitant [Holds for derisive boos and hisses from the crowd at the mere suggestion that someone would deny Nick Renkoski anything. Holds for security to forcibly remove a knife-wielding Dame Judi Dench who has come after FAMOUS HANDSOME PERSON JON HAMM for even saying such a thing] but then I realized, "When has Nick Renkoski, my best friend and emergency contact, ever steered me wrong?" When I was going to pass on Mad Men so I could be in Norbit, it was Nick who talked me out of it. When I don't feel well, I go to Nick because, as many of you know, his hands have healing properties [Holds for appreciative applause from the numerous celebrities Nick Renkoski has healed over the years. Cut to shot of a jealous Michael J. Fox who will never receive Nick Renkoski's healing powers for reasons only the two of them know]. Anyway, after I realized that Nick Renkoski can do no wrong, I decided to take the hosting job and here I am. Of course, tonight isn't about me, it's about the year in movies. Soon to give out a few awards Nicky Founder, President and Sole Voting Body, Nick Renkoski will come out, give us his thoughts on the year and tell us his top 10 movies of 2013. [Holds for rapturous applause in anticipation of Nick Renkoski being in the same room]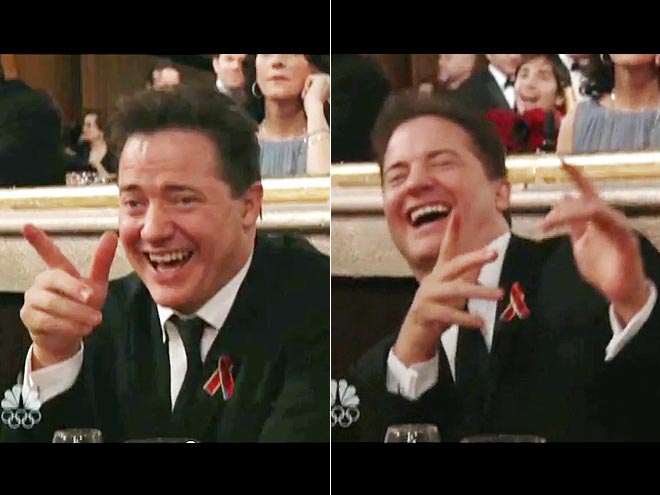 FAMOUS HANDSOME AMERICAN JON HAMM: But first, we must honor those we lost in 2013. Please turn your attention to the video screen [Screen descends from the ceiling that displays a loving "In Memorium" tribute while famed soprano Anna Netrebko sings "When I'm Laid In Earth" from Purcell's Dido and Aeneas. The images on the screen include Nelson Mandela, Peter O'Toole, Paul Walker, James Gandolfini, Joan Fontaine, Lou Reed, Dennis Farina, Helen Thomas, Jonathan Winters, Karen Black, Richard Griffiths and Ray Harryhausen. The last images are of two of Nick Renkoski's idols, Roger Ebert and Stan Musial. The ovation is paralyzing]
FAMOUS HANDSOME AMERICAN JON HAMM: [wiping a tear from his eyes] It's so moving. So moving.
FAMOUS HANDSOME AMERICAN JON HAMM: Well, let's get to the awards, show we? [Applause takes on a decidedly more upbeat bent, as the crowd realizes that life is to be lived and that sadness should be temporary]. It is my distinct pleasure and my solemn duty to introduce Nicky Founder, President and Sole Voting Body, Mr. Nick Renkoski.
[An applause so jarring shakes the very foundation of the building as Nick Renkoski walks on stage, resplendent in the finest tuxedo ever created by man. People begin to wonder what a pile of human garbage is doing onstage with Nick Renkoski before they realize that its FAMOUS HANDSOME AMERICAN JON HAMM, reduced to the appearance of a toothless vagabond next to Nick Renkoski. Men are overcome with the desire to be better people, women are spontaneously impregnated and, doing the President one better, just by Nick Renkoski thinking it, suddenly, gender pay inequality becomes a thing of the past.]
NICK RENKOSKI: Please, please, we can't do this again. You have to settle down. [The throng of dizzying applause is only exacerbated by Nick Renkoski's pleadings. Helen Mirren and Abigail Breslen become engaged in a furious fistfight. After 232 minutes, in which time Nick Renkoski was able to watch the first part of The Wolf of Wall Street, the applause dies down and order is restored]. It's such a wonderful thing to be able to present the Nicky Awards for the 29th time here tonight. You know, I already wrote some of my thoughts on the 2013 cinematic year [short applause indicating that they definitely all read it] but I want to expand on what has been an interesting year. Love it or hate it, one of the defining songs of 2013 was Miley Cyrus' "We Can't Stop" and I spent a lot of time thinking about that song as I watched some of the more interesting movies of 2013. To me, because of the detached, slightly monotone vocal delivery, the tempo and the chord structure, the song is a sad one. "It's our party we can do what we want," might be the motto of the year, but if you're thoughtful about it, you have to ask the question of what is purpose of doing whatever we want. Why are we about that life? Cyrus' delivery is defiant but to no purpose, it's empty, dead-eyed, hollow. There is none of the youthful exuberance or the "Yay! Yay! Yay!" kinetic energy of most teenage anthems. Hell, "It's My Party and I can Cry If I Want To," has more zing to it than "We Can't Stop."  I think it's telling that the first line of the chorus says "We can't stop" and only the second line includes the more defiant "We won't stop." This says that while they wouldn't stop anyway, but they physically can't. They have to do what they want, the way a shark has to move forward lest it dies. It has a trance-like quality, it's about compulsion and the pointless ability to do whatever one wants without ever considering the consequences or other people. It's about grabbing immediate experience at any cost and not thinking about it.
What does a pop song have to do with this year's movies? Well, first, I want to make clear that I'm not a music critic and I don't have any idea what Cyrus, her producers or the songwriters were intending with the song, but it has, since my first listen struck me as a type of dirge about empty experience and that has been a theme for many of the best movies this year and "We Can't Stop" is their theme song. Who could watch Spring Breakers or The Bling Ring without thinking of "It's our party we can do what we want?" Wasn't the hazy and soulless The Great Beauty really about "that life?" And if there was a character who couldn't stop more than The Wolf of Wall Street's Jordan Belfort, I certainly didn't see it. The song also blurs a line that many of the best movies similarly blurred [Hold as security restrains Robin Thicke, who has approached the stage under the mistaken belief that he has won something. Shot of an embarrassed Paula Patton who suddenly realizes that the person she should really be with is Nick Renkoski but that that ship has sailed, Paula, it's not Nick Renkoski and his wonderful wife's fault you picked a dud] Anyway, "We Can't Stop" mixed its message about whether it was condemning this type of behavior or applauding it, just as Spring Breakers, The Bling Ring, Wolf and others all did. I think those movies asked us to consider our feelings more than most, they didn't moralize but they also didn't pretend like some of the behavior it was showing doesn't have a certain appeal. It was a year of uncomfortable ideas, a year of brutal honesty and a year of bad behavior. And I loved it. Let's get to the awards. [Hold for applause that is so triumphant that it brings people back from the dead]
NICK RENKOSKI: The first award goes to the Best Animated Film. The nominees are:
Monsters University
Ernest and Celestine
Frozen
And the Nicky goes to…Ernest and Celestine!
NICK RENKOSKI: This sweet and funny tale of a friendship between a mouse and a bear was the most heartfelt cartoon of the year, delightfully animated and genuinely emotional. I saw it with English subtitles of the original French but it's being recorded now with American actors for a US release in March and I urge everyone to try and find it, I certainly will. Now for the Best Documentary Award. The nominees are:
20 Feet from Stardom
The Act of Killing
Stories We Tell
And the winner is…Stories We Tell!
NICK RENKOSKI: This remarkable documentary by Sarah Polley told the story of the director's mother, a late Canadian stage actress, through all the big players in her life, from her husband, the lovers who might be Polley's father, to her children. It was like Mamma Mia if Mamma Mia hadn't been terrible. Now to the acting awards. We begin with the Best Supporting Actor Award. The nominees are:
Jonah Hill, The Wolf of Wall Street
Sam Rockwell, The Way Way Back
Daniel Brühl, Rush
Jared Leto, Dallas Buyers Club
James Franco, Spring Breakers
And the winner is…Daniel Brühl, Rush!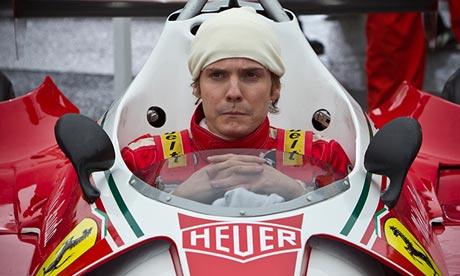 NICK RENKOSKI: Brühl's brooding portrayal of Formula One racer Niki Lauda was a fine symphony of jealousy and determinism, creating a real character through a winning performance that made few compromises. Congratulations, Daniel. I'd congratulate you in your native German, but that filthy language burns my Polish tongue, you dirty Hun dog. [Holds for laughter at what the audience believes is just good old-fashioned national-based roasting because they don't realize that it wasn't a joke and that Nick Renkoski really doesn't like German people]. Now to what proved to be the most difficult category, the absolutely stacked Best Supporting Actress Award. Before we get to the nominees, I want to point out the work of Alfre Woodard in 12 Years A Slave, Margot Robbie in The Wolf of Wall Street, June Squibb in Nebraska, Reese Witherspoon in Mud and Octavia Spencer in Fruitvale Station, all of whom could easily be nominated today for their wonderful performances. Alas, unlike the Oscars [Hold for boos as the mention of the vastly inferior awards] I can't just make up the rules to include them but I wanted to give them special recognition. Anyway, the nominees are:
Julia Roberts, August: Osage County
Shailene Woodley, The Spectacular Now
Emma Watson, The Bling Ring
Oprah Winfrey, Lee Daniels' The Butler
Lupita Nyong'o, 12 Years A Slave
And the Nicky goes to…Oprah Winfrey, Lee Daniels' The Butler!
NICK RENKOSKI: Winfrey was the stand-out in a well-acted ensemble, giving a powerful controlled yet genuine performance that made the most of her star power magnetism without being distracting, she was remarkable. Congrats, Oprah, my good friend who calls me when things with Stedman aren't so good. Now to the Best Actor Award. The nominees are:
Tom Hanks, Captain Phillips
Robert Redford, All is Lost
Toni Servillo, The Great Beauty
Michael B. Jordan, Fruitvale Station
Leonardo DiCaprio, The Wolf of Wall Street
And the winner is… Robert Redford, All is Lost!
NICK RENKOSKI: Maybe I'm a sucker for underacting (four of the five performances in this category would be considered subtle [but DiCaprio's performance might be the most over-the-top of all nominees and he finished second in this race]) and if I am, then Redford has to win as he underacted better than anybody. I was drawn to his quiet competence, his workmanlike determinism, I found his performance mesmerizing. Congrats, Bob. Are we still on for skiing next week [Shot of Redford giving a thumbs up that seems to say "Of course, old friend. Your friendship has made me completely forget about Newman]. Next is the Best Actress Award. And the nominees are:
Cate Blanchett, Blue Jasmine
Greta Gerwig, Frances Ha
Cameron Diaz, The Counselor
Léa Seydoux, Blue is the Warmest Color
Sandra Bullock, Gravity
And the winner is…Cameron Diaz, The Counselor
NICK RENKOSKI: Diaz's commanding animalistic performance was a perfect use of her feline features as a big cat who liked to toy with her food. She was always in control but varied her performance depending on who she was speaking to at the time or what she wanted. This was a smart and measured portrayal of a Lady Macbeth-like villain. Congratulations, Cameron.
Now it's time to reveal the top ten. This has been an incredibly rich year and I want to recognize some of the movies that just missed the list. This includes Frances Ha, Lee Daniels' The Butler, The Wolf of Wall Street, The Bling Ring, Museum Hours and Like Someone in Love. Now for the Top 10.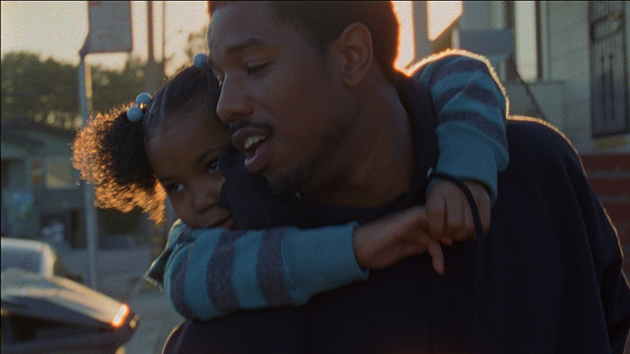 10. Fruitvale Station – Ryan Coogler
This haunting movie was one of the better examinations of modern race relations in a year that featured many good movies on the subject. It was warm and exciting while being cold and devastating. Made with a exuberance of energy by first-time director Ryan Coogler, it might mark the arrival of a new voice in American movies.
9. Stoker – Chan-Wook Park
This creepy homage to spookers from Hitchcock to Burton was a wonderful mix of style and substance, creating a subtle unease from the first frame that doesn't leave you until long after you've seen it.
8. Spring Breakers – Harmony Korine
Harmony Korine's problematic acid trip of bad choices and selfless action was one of the more angry wake-up calls of hedonism run amok. I found no ambiguity to it at all, it didn't hate its characters but it was sure disappointed by them and so should it have been. This was a searing indictment of materialism and blind devotion to empty pleasure.
7. The Counselor – Ridley Scott
This operatic crime gone wrong had the best script of the year (written by Cormac McCarthy) and was driven by a top-notch cast (led by Nicky winner Cameron Diaz). It's dizzying style perfectly complimented its out-of-control story, spiraling together in an exhilarating experience.
6. Upstream Color – Shane Carruth
The year's weirdest movie was a haunting exorcise in style over storytelling, without sacrificing a compelling narrative. I'm still unraveling its legion of mysteries but I understand one thing: I rarely had such an experience watching a movie in 2013.
5. The Spectacular Now – James Ponsoldt
This warm and wonderful story of a teen trying to break the cycle of alcoholism was one of the most genuine, heartfelt movies in a long time, presenting adolescence with admirable amount of restraint. No other movie loved its characters more than this one did.
4. Inside Llewyn Davis – Joel and Ethan Coen
This story of bitter genius (or perhaps bitter mediocrity) was pitch perfect. Fine performances and good music took us on an odyssey of self- and universe-loathing and by the time we were done being inside Llewyn Davis we were happy to be out, even as we had to admit we enjoyed it.
3. 12 Years A Slave – Steve McQueen
This devastating rebuke to the extremes of capitalism is the most straight-forward, no-holds-barred movie about slavery ever made. Brutal to watch but important to witness, this movie never let us of the hook, deciding to burn itself into our imaginations in a way that most movies would never dare.
2. The Great Beauty – Paolo Sorrentino
This sexy and sad epic was a modern take on Fellini's immortal (and still rather modern, itself) La Dolce Vita. Yet, it was all its own, spinning a yarn about a life wasted, lived by someone who is smart enough to realize it but unwilling to do much about it. It was about a man living a life of relaxed desperation.
1. Mud – Jeff Nichols
This remarkable tale of family reunification and coming to age was a Dickensian yarn that never failed to move and delight. A mixture of classic storytelling with deep and varied themes made Mud the most irresistible movie the year, a perfect piece of the American dream seen through the lens of Southern fatalism. The best movie the year.
Well, folks, that about does it. I hope you have all enjoyed the ceremony and we'll see you next year. If you want to see me before then, I'll be at the movies. Good night! [The ovation is of such violence that the crowd literally does bring down the house, collapsing the structure. Luckily, all in attendance were able to escape the rubble except for Jennifer Lawrence who was tragically killed. Rescue crews were able to reach her before she passed but she refused help, saying, "This is the way I want to go, in the throes of Nick Renkoski-related elation. Tell my fiance I never loved him. It was Nick…it was always Nick." Nick Renkoski spoke at her funeral, largely praising her wonderful work in Winter's Bone (2010)]